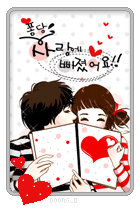 Valentine's Day is the day of the year when lovers play and players love. So tellyour friends how much they mean to you by remembering to leave them comments on this special day.


Here is how to use this
sweet love Myspace Comment Image
: Copy the above code by right-clicking on it and selecting "Copy", then paste it where you want it to appear. Alternatively use the auto-posting interface below to quickly post this sweet love myspace picture to your profile.